MYHOME gathers the most anticipated furniture showcase , home products and information of the year in town. MYHOME is set to provide a more exclusive platform catering for the premium furniture & furnishing industry for both the exhibitors & consumers.
Only limited to those who carry premium product lines only, MYHOME features out exhibits which are high-design, fresh, innovative and are of exceptional craftsmanship.
With the showcase of the best offerings and a flagship representation of brand and capabilities in town, consumers will be able to engage directly and bring home a meaningful and memorable perceptions of the products and services in one shot
What's Hot//
More Savings, Cash Vouchers, Unreal Benefits
What's Hot//
More Savings, Cash Vouchers, Unreal Benefits
WHAT YOU GET
Properly categorised to enhance your shopping experience, one place to purchase all your home furnishing needs.
Category 1
Bedding Collections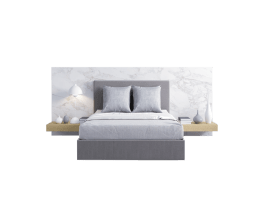 Make a visit to MYHOME to feel the aristocratic sense of a touring to choose the best bedding product.
With the comfy showcase, the latest uptrend and most
supreme & extensive bedding products in town is exhibited in MYHOME.
Visitors will definitely find the best choice of bedding products with best value & excellent quality.
Category 2
Furnitures & Furnishing
All About Home! MYHOME offers a redefining concept to visitors to shop for all sorts of home furniture and furnishings products under one roof.
Don't miss the chance to grab the great deals of latest arrivals of products & services with export premium quality and modernest designs, specially dedicated home décor, designers' work, furniture and the art of living.
Category 3
Electrical Appliance Corner
Wide Range of home electrical appliances, including audio visual products, kitchen & lifestyle appliances will be exhibited in this section.
Mark your date to pay a visit to MYHOME if you want to source for valuable offers!
Category 4
Kitchen & Dining Pavilion
Kitchen & Dining bring families together!
One of best inspiration where you can find for exceptional brands, high-standard designs & ideas for your kitchen & dining hall!
From dining set to kitchen appliance to kitchen designs, you will walk home with splendid deals!
Category 5
InDoor To OutDoor
You will never find shopping is so easy where you shop in MYHOME. From indoor to outdoor, a troublefree platform to source for useful home products & services. You will surely enjoy great deals and special rewards when you shop in MYHOME!
Bedroom Set
Mattress
Mattress protector
Queen Size Bed
King Size Bed
Dining Table & Dining Set
Marble Dining Table
Custom-Build Kitchen Cabinet
Custom-Build Wardrobe
Interior Design & Consultation
Hood & Hob
Induction Cooker
Kitchen Appliances
Electrical Home Appliances
Karaoke System
Living Hall Furniture
Office Furniture
Designer Furniture
Fabric Sofa
Leather Sofa
TV Cabinet
Home Decoration
Carpets & Soft Furnishing
Bath & Sanitary Ware
Aluminium Windows & Doors
Door, Gate & Grill
Roofing & Awning
Clothes Hanger
Water Filtration System
Outdoor Furniture
Landscaping
Curtain, Blind & Wallpaper
Flooring
Insect Exterminator
Ceiling Fan
Lighting
Safety Box
Security Lock
Alarm System
Electronic Door Lock
CCTV Security Camera
Vending Machine
Wellness Product
Our Brands
All Our loyal brands that have been with us from the start untill now
PAST EVENTS
Throught experience we offer our customers the best
LOCATION MAP
Sunway Pyramid Convention Centre ( SPCC )